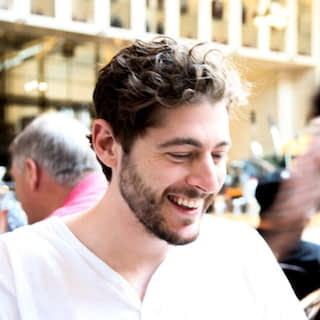 [Our podcast is fully listener-supported. That's why you don't have to listen to ads! Please consider becoming a supporter on Patreon or sending us a one-time donation through Paypal. And thank you!]
We have Matt Daniels on the show again (after more than 3 years!). Matt is the CEO of The Pudding, a collective of journalist-engineers that create visual essays that explain ideas debated in culture. Their pieces are incredibly engaging, somewhat witty and always stunning from the visual point of view.
Since our first interview with Matt, The Pudding has been hugely successful with visual essays being very popular and highly debated at the same time. The Pudding has also a very interesting business structure being partially financed by its readers and accepting submissions for visual pieces developed by freelancers.
On the show we talk about what the Pudding is and how it operated. We also comment on some of the most popular pieces. And finally Matt provides more details on how you can get involved with the Pudding and work with them if you want.
Links
The Pudding: Ali Wong. The Structure of Stand-Up Comedy

The Pudding: Women's pockets are inferior
---
Related episodes